News
14 - 16 February 2012
Conflux will participate at the international fair ZOOM by Fatex, organized for the professionals in the field of fashion, which will be held in Paris.

20 - 22 september
The company shall participate as exhibitor at ZOOM BY FATEX - PARIS NORD VILLEPINTE , organized as part of PREMIERE VISION PLURIEL.

24-27 May 2011
Conflux will participate as an exhibitor at TEXPROCESS International Fair 2011 in Frankfurt.
CNN Report
- an interview with the Commercial Director of Conflux.
History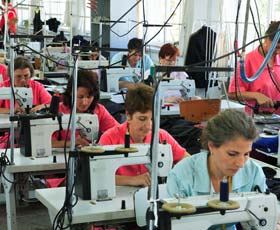 About us
We are a company with a long history, a company for which history restarted in 1991, when we established by the reorganization of the largest clothing company in Romania at that time, Intreprinderea de Confectii si Tricotaje Bucuresti / Clothing and Hosiery Company Bucharest (ICTB).
more
Conflux was established in 1991, with the division and reorganization of Romania's largest clothing factory – Intreprinderea de Confectii si Tricotaje Bucuresti – ICTB / Bucharest Clothing and Hosiery Company - ICTB, with more than 18,000 at that time.
Until 1997, we carried out our production activity in the company headquarters in Bucharest, 44 Viitorului Street, in a special architecture building, located in the center part of the city.
Starting with 1998, when we initiated our first development process, we organized a facility in an area adequate to production, also in Bucharest, 8 Sabinelor Street. The area of this location also allows us to organize the supply of other services.
Starting with 2008, Conflux is continuously working on a large-scale investment project for the restoration of the factory location and related facilities as well as for the modernisation and completion of technical equipment.
In the same year 2008, Conflux participated for the first time on an International Trade Fair,
PREMIERE VISION PLURIEL Paris Nord Villepinte, exhibiting in the clothing manufacturers
section called ZOOM BY FATEX. The participation is continuously going on and one can meet us there twice a year, in February and in September.
Starting with 2009, we are continuously attempting to co-finance our large-scale investment
project through EU funds for Sustainable Growth.
End of 2009 and year 2010 severely challenged Conflux, having to face one of the hardest times in our 20 years history due to the global crisis and the severe Romanian recession. The investment project had to wait for a while, since our main focus was to preserve our team and to overcome the lack of orders by tighten our partnerships with the traditional customers and by finding new markets and opportunities.
Year 2011 comes with a little bit of light and with high hopes. The difficult period seems to be
passed and Conflux will continue the investment project.
May 2011 finds us "Off to Frankfurt" in TEXPROCESS International Trade Fair in the SOURCE IT! section, exhibiting for the first time in Germany as a contract manufacturer.