News
14 - 16 February 2012
Conflux will participate at the international fair ZOOM by Fatex, organized for the professionals in the field of fashion, which will be held in Paris.

20 - 22 september
The company shall participate as exhibitor at ZOOM BY FATEX - PARIS NORD VILLEPINTE , organized as part of PREMIERE VISION PLURIEL.

24-27 May 2011
Conflux will participate as an exhibitor at TEXPROCESS International Fair 2011 in Frankfurt.
CNN Report
- an interview with the Commercial Director of Conflux.
Our services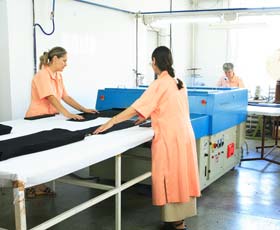 Expertise
Managing team with competence and experience of more than 30 years in the design and production of textile clothing, together with staff qualification and flexibility allowing Conflux to organize the activity on multiple directions.
more
In the beginning, Conflux main activity was focused on clothing collections in short series, manual and automated embroideries, manual hosiery.
Starting with 1997, our activity expanded and reorganized in a new location, maintained until the present times. With a team of 170 employees, Conflux is currently producing women's and children's ready-made garments, in lohn and semi-lohn system.
Our clients benefit from integrated service packages, as varied as possible, depending on the necessities. Thus, we can offer design and technical documentation preparation services, quality inspection, procurement of raw materials, delivery and transport.
Clothing industry mobility required the concept of dual organization, involving staff adequacy both for operative positions and strategic responsibilities.
The combination of these principles made it possible to cover such a wide variety of services, starting with the creation and design of products, up to the production, promotion and trading of products.
Conflux's special characteristic is the production of top quality women's clothing, dedicated to above-average and top level segments.
Nevertheless, the experience, technical possibilities, as well as the desire to meet the customers' requirements determined us to conduct a successful approach on rare or unique activities for the clothing industry. Such examples are works with various embroideries (including manual embroideries) for flags, marks, coat of arms, tags or monograms, manual hosiery and clothing with a high level of workmanship and very short life span in the fashion world.
Among the classical manufacture of the ready-made garments, the company can provide:
technical preparation of the production (including pattern design and specifications)
sample collections
manual, mechanical and automatic embroidery
various ornamental stitches (including manual stitching)
bead, spangle applications and alike
finishing treatments (garments washing and/or dying), together with other specialised companies
extended warehousing facilities for raw materials and finished garments (platform services possible).